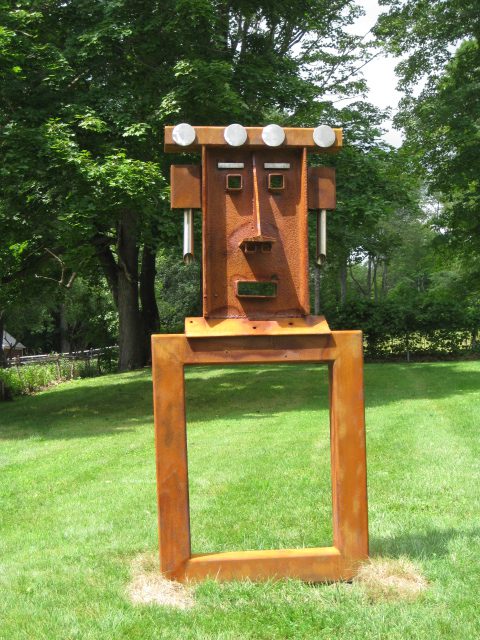 Here is the latest from the studio, Segment Figure IV: Entrada al Inframundo Currently, it's on display at the New Marlborough Meeting House Gallery, on Route 57, on the village green in New Marlborough. The show is titled "Out of Many, One," and there is some high quality work on display. Gallery Hours are Friday, Saturday and Sunday from 11AM to 4PM.
Segment Figure VI: Entrada al Inframundo results from a visit this past March to Mexico, and, in particular, to the Museo de Arte Prehispanico Rufino Tamayo in Oaxaca.
The artist Rufino Tamayo amassed a huge collection of pre-Columbian art, the bulk of it looted artifacts from various Mesoamerican grave sites and tombs. He donated this collection to the city of Oaxaca, and it is beautifully displayed in downtown in a renovated colonial residence.
Among a panoply of ceramic figurines, there were some that were, basically, rectangular in shape, with stubby arms jutting from square shoulders, and equally odd legs protruding from the bottom corners of a rectangle.
Many others were censors with gaping mouths, hollowed ears and eyes that allowed the no-doubt pungent smoke of funerary rites to rise through them.
Incredibly ornate headdresses and jewelry adorn many of these objects. The actual gold, silver, turquoise, coral and bone jewelry from the Late Period, in other museums, is worth a trip to Oaxaca in itself.
There was a strong belief among many of these various cultures in the mystery and power of the Underworld, the Inframundo. Creation theory, in some cases, refers to humans arising from deep within Mother Earth.
For many, there was also a strong belief in rebirth, and the passage from death to rebirth was re-enacted in some ritual ways, sometimes using a "doorway" as depicted in this piece.
I hope that you will find Entrada both entertaining and thought provoking, and that you'll pass through someday yourself!