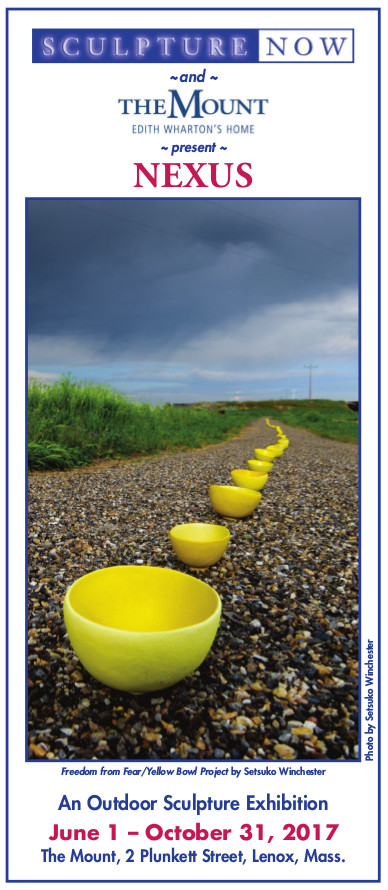 This year's show at The Mount is shaping up to be one of the best! If you can't make it to the guided tour on June 11 at 3:30, when many of the exhibiting artists will be on hand, please be sure to drop in sometime during the summer. (I'm hoping that The Mount will continue their very popular weekend jazz on the terrace series!) I'm excited to be showing my first work that incorporates stone. I have fashioned a bench, using an assortment of found objects welded into a base that supports an irregular slab of local marble from Dale Culleton's collection. I invite you to have a seat for a moment while you're touring the show!
SculptureNow and The Mount present Nexus, an Outdoor Sculpture Exhibition
June 1 – October 31, 2017 The Mount, 2 Plunkett Street, Lenox, Mass.
Free Opening Celebration June 11, 2017
3:30-5 p.m. Guided Sculpture Tour by Exhibiting Artists 5-7 p.m. Reception on Terrace. 5:30 Opening Remarks by State Representative Smitty Pignatelli
Free additional tours: July 16 • August 13 September 17 • October 15 • All at 1:30 – 3:00 p.m.
Featuring works by:

Peter Barrett
Dove Bradshaw
William Brayton
James Burnes
William Carlson
Joseph Carpineto
Matt Crane
Christopher Curtis
Murray Dewart
Stuart Farmery
Harold Grinspoon
Lucy Hodgson
Ann Jon
James Kitchen
Coral Lampert
Madeleine Lord
Philip Marshall
Jacque Metheny
Nancy Milliken
Martina Muller
Lydia Musco
Colleen O'Donnell
Gary Orlinsky
Roe Osborn
Chris Plaisted
Eric Stein
David Teeple
Michael Thomas
Robin Tost
Setsuko Winchester